Welcome to Taank: Meet the Team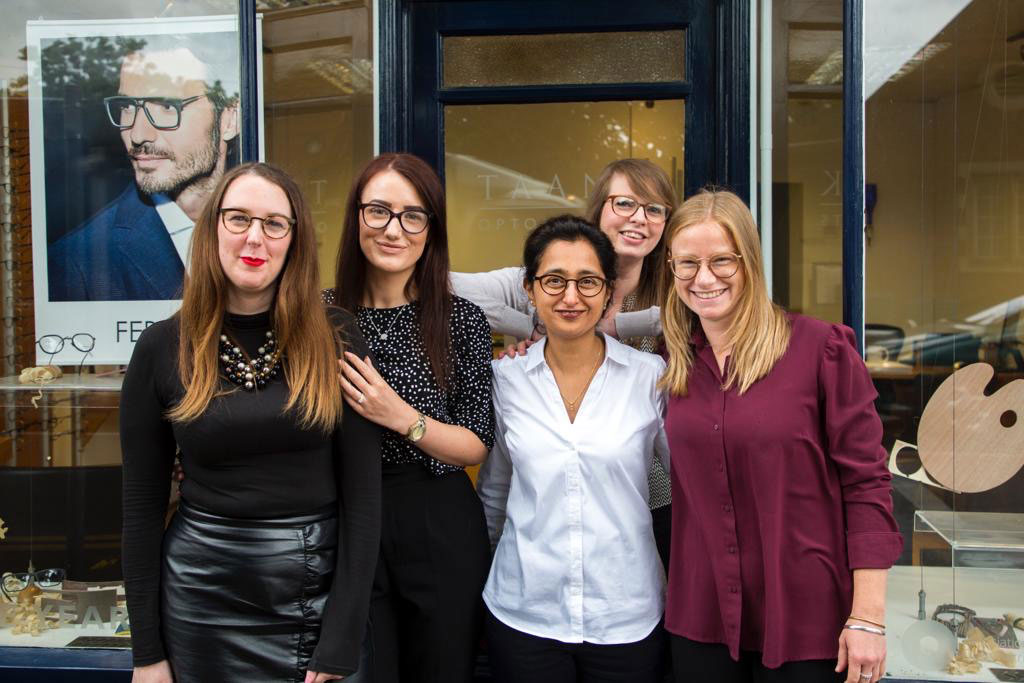 Whenever you drop by and see us, you quickly realise that Taank is a family. One that we like to think extends to include you. If you've been visiting for a while you'll likely know us by name. You may even be one of our regulars who drops by our Cambridge opticians for coffee. But on the off chance you've yet to come in, this is your chance to meet the team and take a peek behind the scenes with our fun Q&A.
1. What's your favourite thing about a typical day at Taank?
Sharne: Getting to hang out with the coolest people in Cambridge: Team Taank. (Wink)
Kate: Styling people with fantastic, unique frames so they feel confident and stylish.
Emma: I love that you never know who's going to walk through the door, from local celebrities to patients who've travelled from as far away as France.
2. What are people most surprised to learn on their first visit?
Leanne: When people meet the team, they're often surprised to find how much we want to help. We genuinely care about eyewear and want to give everyone the best.
Kate: Patients enjoy the relaxed and friendly atmosphere—it's clear we all get along.  Whatever we're doing, it's done with a smile.
Emma: One of the biggest surprises is that our drinks menu could rival a coffee shop. And that there has been an opticians practice on this site for over 100 years.
3. What do you love about being part of Mill Road?
Sharne: Being surrounded by great food places!
Leanne: Having just come back to Mill Road after a few years away, it's so nice to still be recognised by friendly, familiar faces, it's a great community.
Kate: The independent businesses, such as unique local coffee shops, restaurants and charity shops.
Sharne: It's all about asking the right questions. Often patients are unsure about what they want, it's our job to help.
Leanne: Skill, experience, patience and a keen eye for details. The perfect frame is one that matches your personality.
Kate: I agree. The secret to great styling is paying attention to detail. The right glasses should complement your facial features and personality while fitting your lifestyle.
5. How do you put patients at ease?
Sharne: Sitting down and chatting over coffee. We know that looking at rows and rows of glasses on a wall is overwhelming. We make it easier because we know our collections and what will work for patients.
Kate: We welcome every patient with a smile and the offer of coffee. We'll then have a genuine conversation to make sure we understand what they're looking for so we can give them the best options.
Emma: Having a joke. Patients tend to be more relaxed when you're open and friendly, we always want them to feel comfortable.
6. What's the best feedback you've had from a client?
Sharne: "I felt I was in the best hands possible."
Leanne: "You have the best selection of frames in Cambridge."
Kate: "I highly recommend the entire team at Taank – I received thorough personal care at each stage of the process."
Emma: The best feedback I receive is simply being remembered and being told, "I'm glad you're still here!"
7. Where in the world do you source your frames?  
Sharne: Italy, France, Germany, Japan, Austria, Denmark – the list goes on! We look for materials and brands that nobody else has so we have something different to offer. The relationships we have with our suppliers is also very important to us and we have great friendships with our stockists. We love their passion for their products. It's why we take them on board.
Leanne: We travel to trade shows in Europe to see the latest trends and innovations. We like to get ahead of the game and find the best eyewear for our patients.
Kate: Anywhere and everywhere. We aim to find the most unique and beautiful frames.