STYLE: Focus on Garrett Leight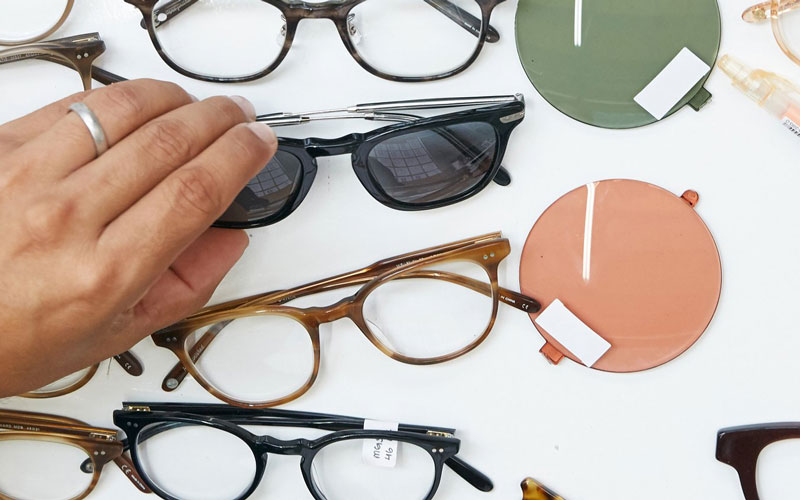 Born in bohemian Venice Beach, the eponymous Garrett Leight collection—designed by son of Oliver Peoples Founder and creative powerhouse, Larry Leight—oozes Californian warmth and laid-back style. The go-to choice of fashionable Angelinos, the frames favour classic tailoring and high-quality materials, with a style-setting somewhere between full-throttle Hollywood glamour and cool-kid swagger. Best of all, Garrett Leight frames are ridiculously flattering and easy to wear.
Here are three of our favourite GL frames to whet your appetite for Spring/Summer 2020:
1. 'Naples' in khaki tortoise
Masculine and stylish, the rich autumnal tones of these frames work especially well with auburn-toned hair and brown eyes. The shape and fit of the frames are well balanced with the model's depth and face shape, and the fact that they're translucent makes them less harsh on pale skin tones. Top marks for wearability.
Pro tip: choose frames in the same colour as your eyes for added oomph.
2. 'Marianne' in pink crystal 
Translucent frames are very on-trend right now and these oversized versions are the perfect blend of subtle and playful. Here, the well-balanced shape highlights the model's cheekbones while the top bar follows her browline to gently frame her face.
Pro tip: Play up your femininity by pairing them with a rose-hued lipstick—the colours look gorgeous together.
3. 'Clark' in matt brandy tortoise laminate
We all know that men's shirts look better on women and the same is true of these frames. While square-shaped and masculine in feel, they're softened by curves and subtle details to make them sophisticated and super wearable. A matte finish and thin frame structure keep things light and breezy, giving definition without overwhelming delicate features.
Pro tip: These are great if, like the model here, you have a blunt fringe that mirrors the shape of the glasses.
The latest Garrett Leight collection, amongst other top eyewear brands, is now in stock at the Taank pop-up so drop by and see them for yourselves.